How the Online Yearbook Signature Page Works
Kudoboard's online signature page allows you to gather appreciation from a group, delivered directly to the recipient virtually.
Online Yearbook Sample
Dan would usually pass around his yearbook for signatures. With social distancing, Dan created a Kudoboard to allow his classmates to digitally share messages, photos, & videos instead.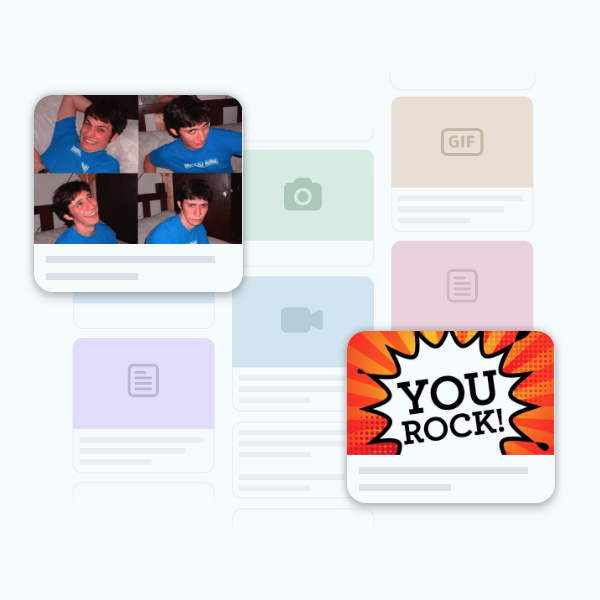 Something for everyone
Choose the option that's right for you — from single group cards to ongoing plans,
for personal use or for the office.
Bulk Purchase
Buy access in bulk for the students of your school (available in packages of 25+). Contact us to discuss your needs.
In addition to all Milestone board features, company events offer:
$3.49 / Premium Board
$7.50 / Milestone Board
Prepay for a set number of students
Receive a custom promo code to distribute
An online yearbook signature page, done right
There is something special, even retro, about passing around a high school yearbook for signatures. But in times when you cannot, Kudoboard allows you to easily collect messages, photos, & videos in digital form. It's as simple as starting a Kudoboard and sharing your link with friends and classmates.
With Kudoboard, you can forget about the corny images, popup ads, and spammy email practices. A Kudoboard signature page is as easy and fun as it sounds – so get started today with your unique Kudoboard signature page to commemorate the end of another school year.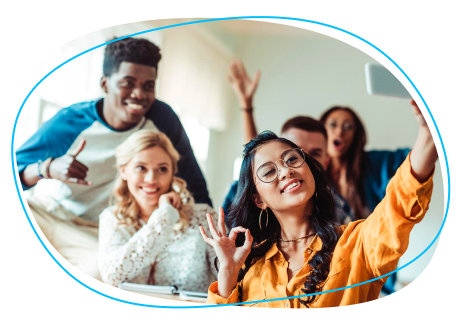 Our school is looking for an option for students to recreate the yearbook signature page, since we aren't physically together this year. Kudoboard looks like the perfect fit.
Frequently asked questions about Online Yearbook
Kudoboard's Online Yearbook signature page provides a free signature page that is easy and fun for students to use. Our boards provide a convenient place for students to write their end of year messages all in one place that doesn't take up valuable shelf space.
To make a digital yearbook signature page, simply create a board, invite others, and see the photos, GIFs, and videos pile in. A kudoboard is easily accessed anytime on a computer or phone. If you or students wish to have a physical copy, our online yearbook gives the versatility to make the board into a book.
Kudoboard online yearbook is a accessible, versatile, and unique way to make a yearbook online. A Kudoboard provides students with a page full of messages with photos, videos, and even with a funny meme or GIF. Additionally, Kudoboard's virtual yearbook page comes without all of the popup ads and advertisements. Instead it is a signature page only for them.
Creating a digital yearbook page is easy. Simply select "Create a Kudoboard," select a background, and invite others to contribute. If you are a school and are seeking this option for your students, we offer bulk purchasing and are happy to help.
If students prefer the traditional physical copy, we offer the versatility for students to keep it accessible anytime online or to print their board into a book.
Besides the laughs you will get years later when you look back at the fasionstyles and hairstyles of the time, a yearbook is snapshot of your personal story. Yearbooks can remind you of the meaningful moments and people at that time in your life. The messages you received can be a reminder of the good you had in your life and maybe even an opportunity to reach out to old friends.
A yearbook can also be an opportunity to see if anyone you knew ended up famous, or rather for everyone else to show they went to school with you after you became famous. Whatever the reason is to have them, an online yearbook can be a memento to take with you without taking up any shelf space.
With a Kudoboard online yearbook, you will be able to access your yearbook anytime from a computer or mobile device. Because all of the messages will be compiled on your board, you can take it anywhere without the hassle of moving it to your next adventure.
Additionally, our virtual yearbook page is viewed without ads and spammy emails. Instead all you will see is what matters—the funny GIFs your friends posted to commemorate the inside jokes you shared. If at any point you wish to have a physical copy, you have the option to make your board into a book.
The great thing about and online yearbook is the opportunity to chose what picture memorializes you with your peers. Instead of the school photo you were dragged to during English class. You can select your favorite picture of you.
To add a photo to your Kudoboard post, simply click '+Add to Board' at the top left corner. Then, select 'Add Image' and click 'Upload Image.' From here, you can choose the file you wish to use. We accept most file types but recommend using JPG or PNG files. After the image uploads, you can add your desired text and post the photo. If you want to add more than one photo, consider adding an image collage.
With Kudoboard, you receive your yearbook instantly. As soon as all your friends and teacher's have contributed, you will be able to access it. Once it becomes available, you will be able to access it anytime. All you will need is a computer or mobile device.
Also, at this time, you can decide to make your virtual yearbook page into a book. This can be a great option if you ware someone who would rather have a physical copy in hand. Depending on the shipping method you select, your book will arrive in about 7-11 business days after you order it.