How Online Group Cards Work
Kudoboard's online group cards allow you to gather appreciation from a group, delivered directly to the recipient virtually.
Sample use
Dani just finished her PhD. Dani's boyfriend created her an online Kudoboard and invited friends and family to contribute photos, videos, and messages.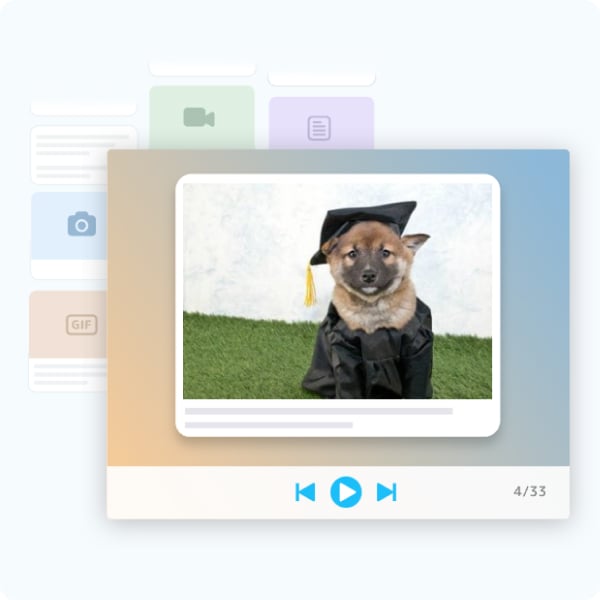 Something for everyone
Choose the option that's right for you — from single group cards to ongoing plans,
for personal use or for the office.
Company Event
Contact us to discuss your needs. Whether recognizing a departing CEO, celebrating a graduation for a university, or honoring caregivers at a hospital – we've got you covered.
In addition to all Milestone board features, company events offer:
Your logo at the top
Board export
Custom pricing
Tagging, likes, & comments
Custom URL
Custom disclaimer
Proactive moderation
Custom input fields
Multiple administrators
Board metrics
Embeddable slideshow
Dedicated account manager
Personalized Graduation Slideshow, Done Right
Your colleague has his 50th birthday next week. Dad is finally retiring. Your son just graduated from college. Not every occasion is slideshow worthy. But when you are celebrating something BIG – a slideshow can be the perfect way to share the love.
With Kudoboard's slideshow maker, we've got you covered.
Create a Kudoboard with photos, GIFs, videos, and messages. Send the slideshow link directly to your recipient, or invite others to contribute for an in-person celebration. Boom, you are officially a slideshow hero!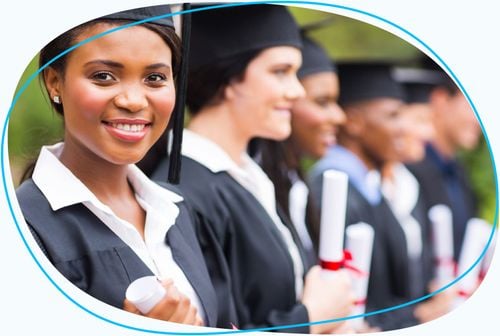 I LOVE LOVE LOVE Kudoboard. The first one I received was when I was graudating from college, and now I use it for every one of my friend's birthdays. It's just so much more personal than the typical card.

Denali L. Louisiana
Frequently asked questions about Graduation Slideshow
When considering how long a gradation photo slideshow should be, it is essential to remember that the slideshow to be long enough to celebrate the graduate adequately but not so long that no one ends up finishing the whole thing.
On average, a graduation slideshow is about 10-15 minutes. Though they can be shorter. Your goal is to make a graduation slideshow that can be enjoyed regularly. If you feel like this might be too short, keep in mind that a 5-10 minute slideshow is long enough to include 100 images with 4-5 seconds per image. So a 10-15 minute slideshow can include even more photos.
There are a handful of ways to make your high school graduation slideshow a meaningful part of an event or present. Most people will plan to add a series of pictures, videos, and music but those are general categories. This leaves the directions you can take limitless.
Here are some ideas on how to direct your slideshow:
Make the visuals a timeline of their school life.
Compile funny memories of them from their friends and families
Highlight their accomplishments. Include extra-curricular accomplishments, scholarships they received, academic achievements, or other meaningful moments in their education.
Compile a list of ways they have impacted others' lives in their school.
Comprise a collection of quotes for them to read as they move on to college.
If you need further ideas, check out a Kudoboard example slideshow to get inspired on which direction to take on your graduation slideshow.
Whether it is a graduation from high school or a Ph.D. program, a graduation photo slideshow is a great way to display the success of your graduate. However, starting it can seem overwhelming. Thankfully, Kudoboard's graduation slideshows are easy and do most of the work for you.
All of our slideshows begin as a board. Here is an example of what the board will look like. Once the board is complete, a simple click on the "Play Slideshow" button makes your board into a graduation photo slideshow. Here is an example of how your slideshow will appear. These examples will show that making a Kudoboard graduation slideshow isn't overwhelming but rather quick and easy.
A graduation is a major milestone in anyone's life. If you are choosing to celebrate your graduate and all of their accomplishments in a graduation party slideshow, playing songs along with it can add to the emotional impact. When picking the right song for your graduation slideshow, consider what theme you would like for it to be. Ask these two questions:
Do I want the slideshow to celebrate them and their new adventures?
Do I want the slideshow to look back on the memories and journey they took to get here?
Depending on how you answer those two questions will change what type of songs best fit your slideshow.
Here are some ideas for songs that will celebrate their future:
"Unwritten" by Natasha Bedingfield
"A Place in This World" by Taylor Swift
"I've Gotaa Feeling" by Coldplay
"Miles Apart" by Yellowcard
Here are some song ideas if you are looking for songs to look back on their educational journey:
"How Far We've Come" by Matchbox Twenty
"Don't You Forget About Me" by Simple Minds
"Good Riddance" by Greenday
"I'll Be There for You" by The Rembrants
The best graduation slideshow maker is one that creates an impactful photo display while being versatile and easy to use. A Kudoboard graduation slideshow allows for anyone you invite to contribute photos to include in the slideshow. This feature makes for an easy group graduation photo display.
Creating a graduation slideshow is easy, all you need to do is select "Create a Kudoboard" and select a Milestone or Business plan. Once you have selected a background, start posting photos or invite others to contribute. When the board is complete, select the "Play Slideshow" button at the top right.
Just like that, you have an edited graduation party slideshow that can be turned into a book when the party is complete.
Making a graduation slideshow is quick and easy with Kudoboard. Any created milestone board can be displayed as a slideshow.
To begin, select "Create a Kudoboard" and select a "Milestone board." If you are a business, select a Business or Enterprise plan. Once you have selected a background, begin inviting members of the graduating class or family and friends of the graduate contribute to the board. After you collected all of the photos and messages, simply click the "Play Slideshow" button. This button can be found on the top right of your board or your Dashboard. Here is an example of what a graduation slideshow will look like.
In your settings, you will have the ability to decide if you want to display the title, skip videos, or show a QR code. If you need further instructions check here. Once your slideshow is ready for viewing, you can embed the video on the schools website or share the link to participants.
Graduation is a major milestone that only happens a few times in someone's life. It is an opportunity to celebrate overcoming challenges to become successful and to celebrate their future. So when deciding on what to include in a graduation slideshow, quotes can be a great way to provide words of encouragement and advice on their journey ahead.
Here are some quotes about graduation to include in a graduation party slideshow:
"Success is stumbling from failure to failure with no loss of enthusiasm" – Winston Churchill
"The unfortunate, yet truly exciting thing about your life, is that there is no core curriculum. The entire place is an elective." – Jon Stewart
"It is impossible to live without failing at something, unless you live so cautiously, that you might as well not have lived at all; in which case, you've failed by default." -J.K. Rowling
"If it doesn't challenge you, it doesn't change you." – Fred DeVito
"Whatever you choose for a career path, remember the struggles along the way are only meant to shape you for your purpose." -Chadwick Boseman