How Online Group Cards Work
Kudoboard's online group cards allow you to gather appreciation from a group, delivered directly to the recipient virtually.
Sample use
Father's Day is coming up next week. Bill's son Jacob started him a Kudoboard, invited his siblings to contribute, and will play the slideshow during a family get-together on Father's Day!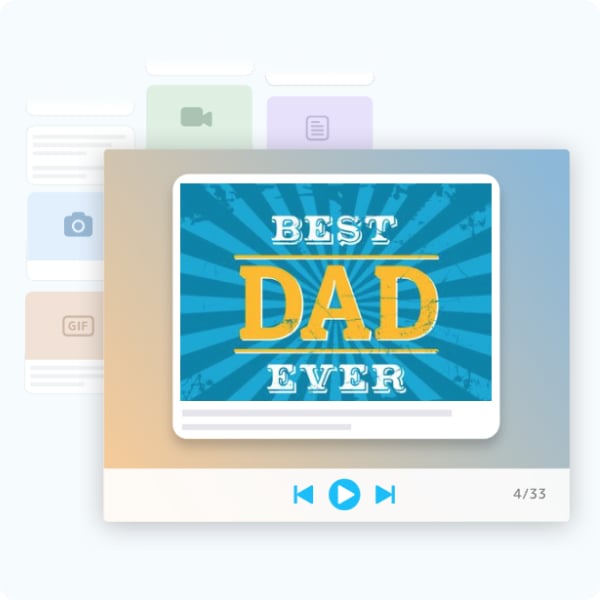 Something for everyone
Choose the option that's right for you — from single group cards to ongoing plans,
for personal use or for the office.
Company Event
Contact us to discuss your needs. Whether recognizing a departing CEO, celebrating a graduation for a university, or honoring caregivers at a hospital – we've got you covered.
In addition to all Milestone board features, company events offer:
Your logo at the top
Board export
Custom pricing
Tagging, likes, & comments
Custom URL
Custom disclaimer
Proactive moderation
Custom input fields
Multiple administrators
Board metrics
Embeddable slideshow
Dedicated account manager
A Father's Day slideshow, done right
Your colleague has his 50th birthday next week. Dad is finally retiring. Your son just graduated from college. Not every occasion is slideshow worthy. But when you are getting everyone together for a big celebration – a slideshow can be the perfect way to share the love.
With Kudoboard's slideshow maker, we've got you covered.
Create a Kudoboard with photos, GIFs, videos, and messages. Send the slideshow link directly to your Dad, or invite the whole family to contribute and present it at an in-person celebration. Boom, you are officially a Father's Day pro!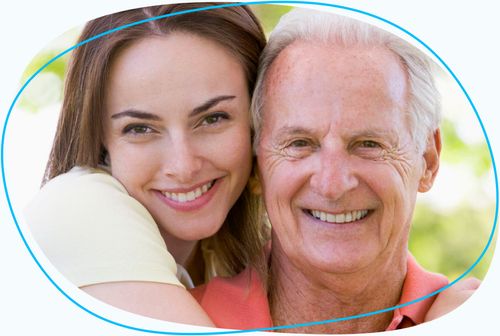 I received a Father's Day Slideshow from my grandkids through Kudoboard. Very nice design, and it was great to look at all the pictures. Thanks!

John P. Florida
Frequently asked questions about Fathers Day Slideshow
Dads. They are always just a call away, our personal handyman, sneaker of the leftovers, and teller of high cringe-level jokes. They deserve a proper celebration on Fathers Day and a personalized slideshow from Kudoboard is just the thing. Get started today!
Wishing dad a happy Fathers Day with an online photo slideshow is easy and only takes a few minutes! Simply click here to get started. You will be creating a custom Fathers Day ecard that can be displayed at your Fathers Day event as a slideshow. Enter your information and who the card is for. Then you can explore the customized templates, add text and photos, and invite other family members you would like to contribute. It is as simple as that!
The sky is the limit when it comes to creating a slideshow for Father's Day. There is no "right" way to go about it. What first comes to mind when you think of your Dad? Is he funny? Gives good advice? Dependable? Adventurous? Use what pops into your mind as your theme for the slideshow. Remember that whatever comes from the heart, is the right idea. You can add text, video, links, memes, stories, pictures, and more to your slideshow. Once you have your central theme, invite other family members to contribute to the slideshow as well.
If you are looking for theme ideas for your Father's day slideshow, we've got you covered!
Dad Jokes. Have everyone who contributes tell their favorite cheesy joke their Dad tells. They can add pictures, a video, or just text will be fine! Make sure to encourage everyone to add a personalized note as well.
Walk down memory lane. Have each person contributing share their favorite memories they have made with Dad. Bonus points for pictures here.
Adventures with Dad. This is for the dad's who are always looking for their next adventure. Have everyone share a fun vacation, hobby, or outing they have had with dad. You can even surprise dad at the end with an upcoming adventure you have planned for his fathers day gift!
Fatherly Advice. Every dad would love to hear how the advice they have given has positively affected your life. Have everyone share advice they have gotten from dad, and how they have applied it in their life. A video message from family members would be great here and make sure you pull out the tissues.
Looking for inspiration? This is a fun example of a Father's Day slideshow from a Kudoboard customer.
Depending on your needs, there are multiple plans and pricing options. We are confident you will find something that fits each person, business, and budget. You can always create a Miniboard for free. This is an excellent option for 1-1 cards, small group cards, or to try out the service. Go ahead and build your first virtual slideshow as a fathers day gift today!
Music is a great way to really amp up your Father's day slideshow. Think about the type of music your dad likes, and go from there. This website has some great ideas of specific songs to add.
Yes! Virtual birthday cards can be sent from an entire group. Miniboards are free and can have up to 10 contributors. Premium plans can accommodate up to 100 contributors. Our subscription plans vary and can offer up to unlimited contributors. Inviting your family and friends to contribute is simple and can be accomplished in 1 of 3 ways. You will get a unique board link once you have created the welcome card that you can message out through the system. You can also invite them through Facebook or send an email invitation.