How Online Group Cards Work
Kudoboard's online group cards allow you to gather appreciation from a group, delivered directly to the recipient virtually.
Sample use
Sandra is leaving her job. Her coworker Stephen started her a Kudoboard from the office, invited everyone to participate, and plans to play the slideshow during Sandra's going away party.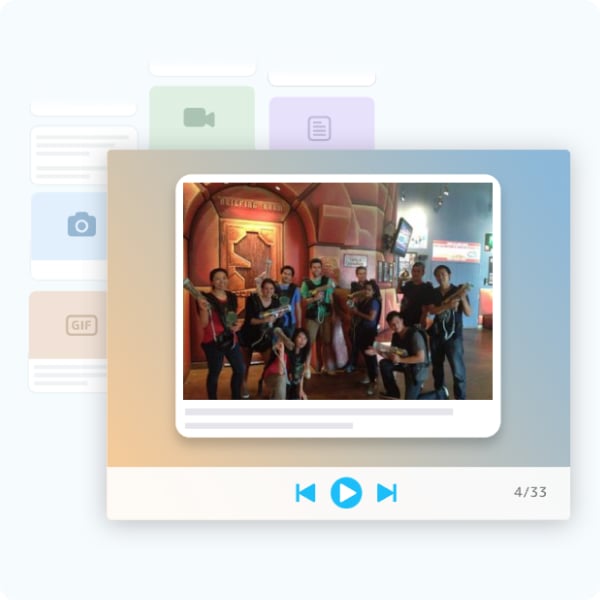 Something for everyone
Choose the option that's right for you — from single group cards to ongoing plans,
for personal use or for the office.
Company Event
Contact us to discuss your needs. Whether recognizing a departing CEO, celebrating a graduation for a university, or honoring caregivers at a hospital – we've got you covered.
In addition to all Milestone board features, company events offer:
Your logo at the top
Board export
Custom pricing
Tagging, likes, & comments
Custom URL
Custom disclaimer
Proactive moderation
Custom input fields
Multiple administrators
Board metrics
Embeddable slideshow
Dedicated account manager
Finally, a farewell slideshow done right
Your colleague has his 50th birthday next week. Dad is finally retiring. Your son just graduated from college. Not every occasion is slideshow worthy. But when someone is leaving – a group slideshow can be the perfect way to share the love.
With Kudoboard's slideshow maker, we've got you covered.
Create a Kudoboard with photos, GIFs, videos, and messages. Send the slideshow link directly to your recipient, or invite others to contribute for an in-person celebration. Boom, you are officially a slideshow hero!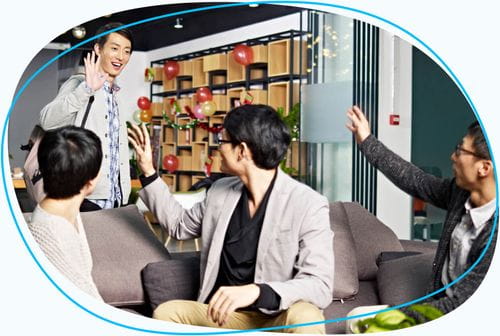 I love Kudoboard. Simple, easy to sign up, and the layout is really good. What a nice way to create a slideshow from a group.

Kayla P. Kentucky
Frequently asked questions about Farewell Slideshow
There are a handful of ideas to make your farewell slideshow an impactful goodbye for whomever it is leaving. Most people expect a slideshow to be a series of pictures and videos set to music. Even though this is a great starting point, it can be too general. This leaves the directions you can take limitless.
If you need a little help knowing what direction to take, here are some ideas for your goodbye photo slideshow:
Create a flashback of memorable photos significant to your relationship.
Compile messages of good luck in their next step.
Ask others to write ways the recipient impacted others' lives within your company, group, or family.
Ask contributors to include funny memories, photos, or inside jokes in their posts.
If you need further ideas, be sure to check out a Kudoboard example slideshow to get inspired on which direction to take on your birthday slideshow.
Depending on how emotional you wish to get, the right song with your farewell party slideshow can bring the room to tears. However, you can also select a song that adequately describes feelings of excitement about the new opportunities facing the person leaving.
If tears are your goal here are some emotional songs you will probably cry to while you make the slideshow:
"I Will Remember You" by Sarah Mclauchlan
"Here Without You" by 3 Doors Down
"I Hope You Dance" by Lee Ann Womack
"Good Riddance" by Green Day
If your farewell slideshow is meant to be joyful, here are some suggestions:
"Don't You (Forget About Me)" -Simple Minds
"On the Road Again" by Willie Nelson
"These Books Were Made for Walking" by Nancy Sinatra
Sometimes beginning a farewell photo slideshow can be overwhelming. There are so many directions to take and countless software options that it is impossible to know where to start. A Kudoboard farewell slideshow does most of the grunt work for you.
Begin by looking at this example as a template of what your slideshow can look like. Once you know what you would like the slideshow to include, simply select "Create Kudoboard"' and begin creating. Our software will compile messages from you and others you invite into one board. When the board is finished, simply select "Play Slideshow." The posts will automatically begin playing as a farewell photo slideshow ready for any party. It's that easy.
Making a farewell slideshow for a boss is quick and easy with Kudoboard. Any Business or Mileston board can be displayed as a slideshow. All you need to do is create a board, invite the office to contribute, and find a place to display your farewell photo display.
To begin, select "Create a Kudoboard" and select a "Milestone board." If you are a business, select a Business or Enterprise plan. Once you have selected a background, begin inviting employees to begin contributing their farewell messages to the board. After you collected all of the photos and messages, simply click the "Play Slideshow" button. This button can be found on the top right of your board or your Dashboard.
In your settings, you will have the ability to decide if you want to display the title, skip videos, or show a QR code. If you need further instructions check out our step-by-step guide.
Whether it is because they got a job promotion or are moving to another city, saying farewell to a colleague can be difficult. No matter the relationship you have with them, you probably want to find the right messages and media to include in their goodbye photo slideshow.
Here are some ideas on what to include in your Kudoboard farewell slideshow:
Include various photos of their time at the organization.
Write good luck wishes.
Compile funny or impactful memories of them while they were at the organization.
Ask contributors to make a video message.
Include messages with funny memes or GIFs
You can also check out this example farewell slideshow for more ideas on what to include in a colleague's farewell party slideshow.