How Online Group Cards Work
Kudoboard's online group cards allow you to gather appreciation from a group, delivered directly to the recipient virtually.
Sample use
The Rubens Family decided to use Kudoboard to make an online Christmas Slideshow this year. They added photos & videos to the board and then sent the link to their friends & family.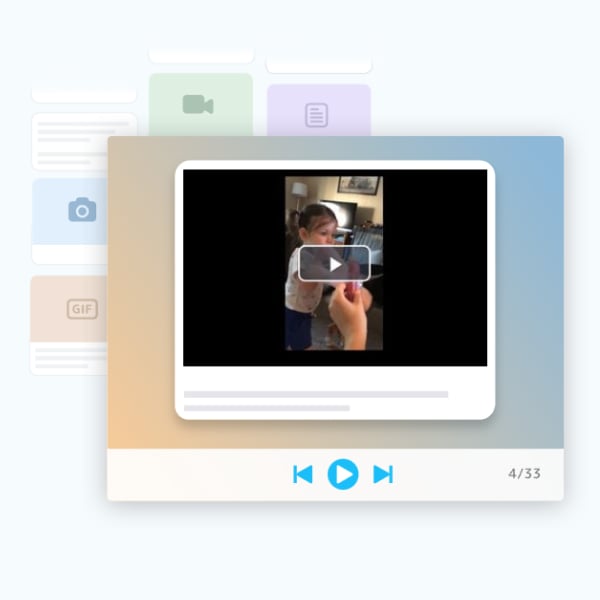 Something for everyone
Choose the option that's right for you — from single group cards to ongoing plans,
for personal use or for the office.
Company Event
Contact us to discuss your needs. Whether recognizing a departing CEO, celebrating a graduation for a university, or honoring caregivers at a hospital – we've got you covered.
In addition to all Milestone board features, company events offer:
Your logo at the top
Board export
Custom pricing
Tagging, likes, & comments
Custom URL
Custom disclaimer
Proactive moderation
Custom input fields
Multiple administrators
Board metrics
Embeddable slideshow
Dedicated account manager
Got something slideshow-worthy?
Your colleague has his 50th birthday next week. Dad is finally retiring. Your son just graduated from college. Not every occasion is slideshow worthy. But when you are getting the whole family together for a big celebration – a slideshow can be the perfect way to share the love.
With Kudoboard's Christmas slideshow maker, we've got you covered.
Create a Kudoboard with photos, GIFs, videos, and messages. You can even invite others to contribute. Then send the link to the slideshow online, or pull it up in-person to be a Christmas hero!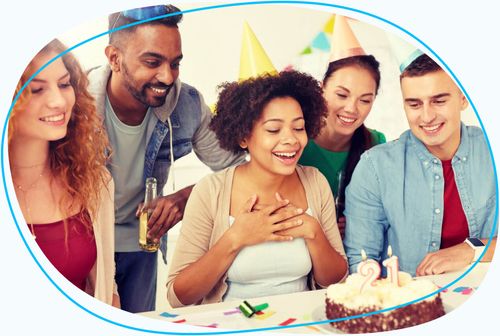 I used Kudoboard to create a Christmas slideshow with contributions from my class. We shared it with the broader school at an assembly, and it worked perfectly!

Lucy R. Missouri
Frequently asked questions about Christmas Slideshow
Most of us are familiar with creating slides for PowerPoint presentations, but what do you do when that doesn't fully meet your slideshow needs? With Kudoboard there is a better way to make a lasting impression on your friends and family during this Christmas season. A Christmas slideshow from Kudoboard allows you to take your Christmas card – full of messages, photos, GIFs, and videos – and display it on a screen for everyone in your group to enjoy.
Christmas is known for bringing friends and family together to share gifts, food, and love for each other (and maybe a handful of sibling arguments along the way). Why not make it even more memorable with a Christmas photo display during your holiday party? Because your Christmas slideshow can be played on a loop it is easy to press play and let it run in the background while you enjoy each other's company.
People often ask, "Are Christmas cards still popular?" The answer is yes, but with Kudoboard you can put a unique twist on the tradition that everyone will remember. Rather than spending the money on postage, compile everyone's Christmas cards and add them to your Christmas boards – then play a Christmas card slideshow for everyone to enjoy!
We have worked to make this process so simple and quick that anyone can do it!
Once you click the "Create a Kudoboard" button on our website, select our "Milestone board." The Milestone board contains the slideshow function, as well as allows unlimited posts from contributors on your board. Our template will then walk you through the next steps of choosing a recipient (put your own name if you will be the one organizing and playing the slideshow), naming your board, and choosing a background that fits your style. Voila! Your Christmas board is set up. You can now add in whatever Christmas messages or posts you would like. Once you are done, email the link to everyone in your group so they can join in on the fun. They can add messages, photos, GIFs, or videos to the board and all of it will be displayed as you play the slideshow. You will be amazed at how seamless and easy the process is!
Kudoboard does not currently have the ability to add music to your slideshow. Christmas songs make a great addition to any holiday slideshow and you can still use them even without adding them directly to your board. You can easily play the audio in another tab, play songs from a speaker in the room, or add a youtube video of the song you want as a post on the board to be played during the slideshow.
The most popular Christmas song for your slideshow depends on your audience. Who is your Christmas slideshow geared towards? Your song choice will change if your viewers are primarily young families vs. a work Christmas party. Here are a few popular Christmas songs to consider using for your slideshow:

Jingle Bell Rock

All I Want For Christmas Is You
Santa Claus Is Coming To Town
Let It Snow! Let It Snow! Let It Snow!
Frosty The Snowman
Rockin' Around The Christmas Tree
Joy To The World
Winter Wonderland
How The Grinch Stole Christmas
Your board is full and looks exactly how you want it – now what? This is the fun part! When you are ready to play your Christmas slideshow, simply click "play slideshow" located on your board or in your dashboard. Adjustments can be made for how you want your slideshow to be played, such as:
The speed it plays
If you want the title to show during the slideshow
The order of the posts
Skipping certain posts or videos
Displaying a QR code on the screen for anyone who wants to contribute live during the slideshow
Kudoboard has 100+ backgrounds to choose from for your Christmas slideshow, or our Milestone board allows you to upload a custom background. If you choose to create your own background, select "change background" on your board, select "custom background" in the pop-up panel, and add on your background. Then choose a header color, a background color, and click "save changes."
The great thing about using a Kudoboard slideshow is the chance to customize it to whatever you need it to be! The sky is the limit for what type of Christmas slideshow you want to present for you and your group this holiday season. If you are stuck and looking for some ideas to get you going, here are some options to try:
Christmas wish slideshow: Instead of focusing on a wish list for presents, each member posts photos from the year and wishes they have for themselves and their families in the next year.
Christmas photo display: Have the members of your group post a handful of photos of highlights from their year and a few messages about them
Best and worst: Each member of your group posts a picture of the best part of their year and one for the worst part and let everyone celebrate and commiserate together.
Honor a family member: choose someone important from your family, like a grandparent, and have everyone contribute a photo with that person and a message about why they love them or a special memory they have of with them
Guess who?: Each member anonymously contributes a fun fact, memory, or message, and everyone has to guess who the author is. Take it up a notch by asking everyone to post their most shocking or embarrassing moment from the year and take turns guessing who it belongs to
Teacher's slideshow: as a teacher, compile posts from parents onto a board and play it for the students during the class Christmas party.Additionally, all of the teachers could contribute to a board to be played at a staff Christmas party
Yes! The ability to download your Christmas slideshow comes with any board that allows a slideshow. Both the board creators and admins of the board are able to export and download the slideshow. Once you open your Christmas board, click "play slideshow." As your slideshow starts to play, look in the right-hand corner for the settings button and click "export video." Once your video is ready you will receive an email with a button to download your slideshow.
Still have more questions? Come check out our blog! We regularly post new content to help you find what you need. Once you are there, feel free to poke around and see if any of the other content piques your interest.
As always, we love hearing from you – so please contact us with any unanswered questions!