CEO Pays For Service Members to Fly Home for The Holidays
An Air Force veteran and current software CEO wanted to give back to those who serve last holiday season. How? He paid for their holiday flights home.
Ed Roshitsh, the CEO of Dude Solutions, raises money for veteran charities every year. But last year, he wanted to do it differently.
"Lots of these folks don't make hardly any money. An E1, which is basic paygrade, probably makes $15,000 a year. They can't afford to get home for the holidays," said Roshitsh.
He posted a message on Linkedin, which asked the public to submit names of active duty service members who wanted to get home for the holidays. He was going to pay for five himself.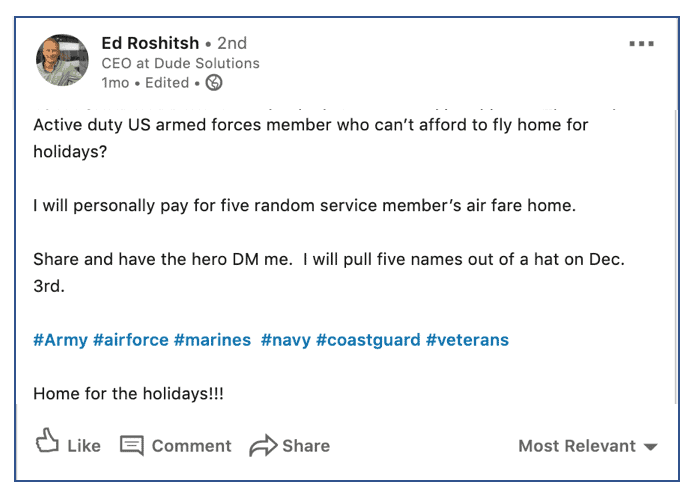 His offer went viral, encouraging others to get into the spirit of giving.
"There's probably close to 300,000 views," said Roshitsh. "And from all the shares people started to ask, 'Can I donate a ticket?'"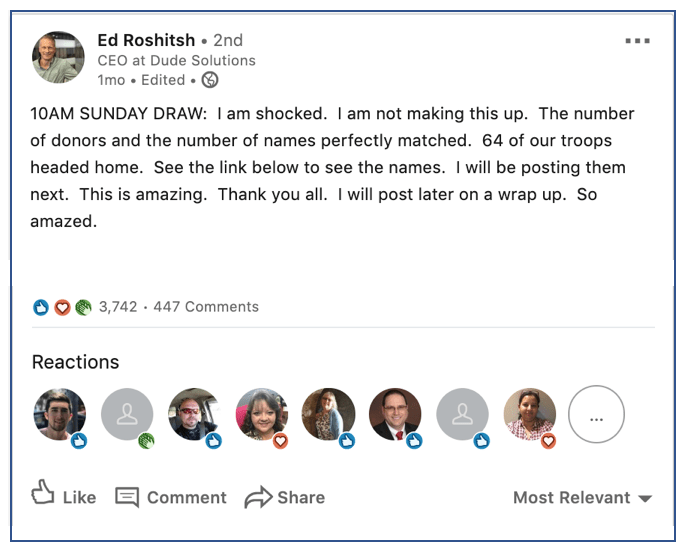 Another veteran, Andrew Appleton, CEO of TravelAgent360.us, messaged Ed offering his assistance in booking the tickets. "Our team of agents is made up of veterans and active-duty spouses focused on booking travel and saving money for the military community," said Appleton. "It only made sense that we offer our support."
To make sure Ed knew the impact he had, Andrew also created him a thank you Kudoboard to allow the recipients of the tickets to share their thanks.  "Kudoboard was the perfect way to rally everyone in saying thanks."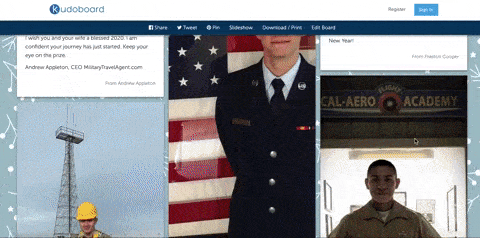 See the full Kudoboard here.
The gesture hit home. "I had no idea the impact I was making," commented Ed, "until I read the comments shared on the Kudoboard."
After two weeks of booking tickets, Ed's initial generosity – along with all the donors who chipped in – sent 65 active duty service members home for the holidays.