Select a Recipient
Choose someone to receive a Kudoboard giant birthday card.
Add your content
Attach your messages, photos, GIFs, & videos to the recipient's board.
Enlist your group
Invite family, friends, and colleagues to add their contributions.
Deliver Appreciation
Deliver the recipient's Kudoboard online or print it as a jumbo birthday card.
Sample Use
Denali's 30th birthday is coming up. Her brother Kevin started her a Kudoboard, invited friends and family to contribute, and plans to print Denali the giant birthday card as a poster.
Pricing
Try it For Free, Go Big for $5.99
Great for a not-so-giant card or to test the Kudoboard system.
Features
Maximum of 10 board posts
Add text, pics, GIFs, videos
Desktop & mobile friendly
Accessible forever
No advertisements
Deliver online, print as poster, or play as slideshow
Upgradeable to Premium
Perfect to collect messages & photos for a giant birthday card.
All Mini features +
Unlimited posts/contributors on 1 Kudoboard
Printing
Download the giant birthday card for free & print it yourself. Or we can print & ship anywhere in the continental US.
Print/ship cost is based on sq. feet (a board with 50 posts will cost ~$50).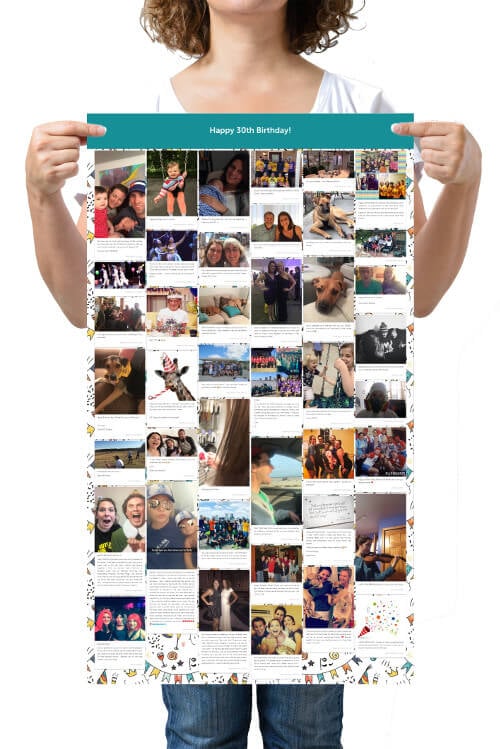 Fantastic way to create jumbo birthday cards. We all made one for the boss on his retirement, and it was a hit!

Richard P., New York
My colleagues created by a humongous birthday poster for my 20th work anniversary! It was such a sweet gesture - definitely something I'll treasure.

Rosalie R., Australia
My friends and family surprised me with a giant birthday card from Kudoboard for my 50th birthday. I'd strongly recommend the service to anyone.

Casey F., Texas